The Association's Activities
Outline of the Association's Activities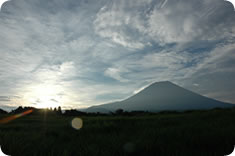 Mt. Fuji viewed from
our property
Help promote national trust activities or movements
The Association renders assistance towards individuals or groups locally initiating national trust activities or movements.
Conduct research and survey, and collect information on national trust movements
The Association studies preservation strategies for natural or historical environments, and submit proposals to administrative organs or private enterprises. The Association also solicits the administrative authorities for amendment of legal systems including reduction and/or exemption of tax on gift or donation, or the right of national trusts to declare the acquired properties inalienable.
Establish networks in and outside of Japan
The Association promotes exchange of information on national trust movements, enhances mutual cooperation, and expands communication and ties with overseas entities preserving environments.
Activate and promote environmental activities and education
The Association widely calls for participation into national trust movements by means of symposiums, seminars, work camps, nature observation events, production of slides, panels, movies, videos, or issuance of bulletins and guidebooks. Home page, various campaigns, and environmental education programs are also produced by the Association.
Train volunteers
The Association renders assistance and training to citizens who are willing to take part in voluntary work for national trusts, so that they can enjoy such work and find it worthwhile.
Carry out other activities necessary to promote national trust movements